Advertisements
Advertisements
Draw My Thing
Draw My Thing is an interesting game that is very suitable for players who loves arts. No matter whether you are good or bad at drawing, just forget it and have fun with Draw My Thing, it will help you to relax when you are so tired.
Walkthrough of Draw My Thing
First, you have to choose a country that you want the game will be in, then, type your username and participate in the game room.
You can design the game room yourself with your style and after that, you can invite your friends to your game room or you can join in other game rooms of players around the world to join in playing and to guess their drawings.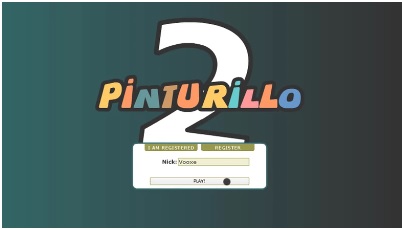 The game does not only bring you relaxing times but it is also a chances for you to make friends with people from all over the world. At the same time, you can learn so many things from the drawings of other people and their drawing skills. Therefore, you will become more creative and you may find out some of your hidden talents.
In the game draw my thing online, there are 20 levels, depending on the people joining in the game. In each level, players can draw 2 times, and mission for the others is to guess what that person has drawn. There are different key words for each round and I'm sure that there will not be any key words to appear the second time.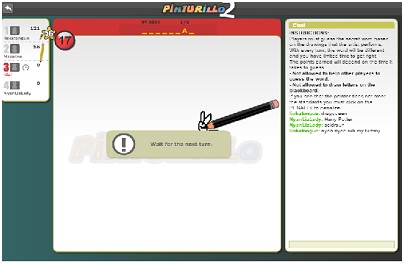 In each level, players will be given 60 seconds to draw and 60 seconds to think about what the other players have drawn. You score when you give the correct answers of the drawings and key words.
If you are a member in the game room, you will be given a key word on the address bar. What you have to do is to try to draw such a good picture that other people can easily guess what it is. If other players can guess what it is you will score 1 point. Remember that you must not write down that word, it is opposite to the rule of the game.
If you are the guest of the game room: there are some horizontal lines and a clock on the bottom of the screen. When the time is going on, letters will appear one by one on the horizontal lines as the hints for the answers. When you have the answer, you have to type your answer in the chat box. If you are the first one to give the correct answer, you will be given 2 points.
Some notes for you when you play draw my thing game
The easiest way to be the first is to remember the key words list, then link the picture with the word that you remember. In another way, you can write down any words in the key word list that you can remember or you think that it may be the answer. Therefore, you can guess a lot of pictures and score many points in the game.
If your answer is wrong, there is no punishment, so you should type any words that you think of, one of them maybe the correct answer.
Draw My Thing is a free online game, which is so interesting and popular. This game is easy to understand, easy to play but still exciting. When you play draw my thing game, you can show off your drawing talent and test how you can guess drawings. So play draw my thing game now to find out how attractive it is. Have fun with Draw My Thing!